Try following options - ...
Free account and
a great signal! ...
Easy to follow, accurate and reliable signal.
All you have to do is register as a member and then choose from one of the three options available to get access to this signal.
Sign up as our member here ...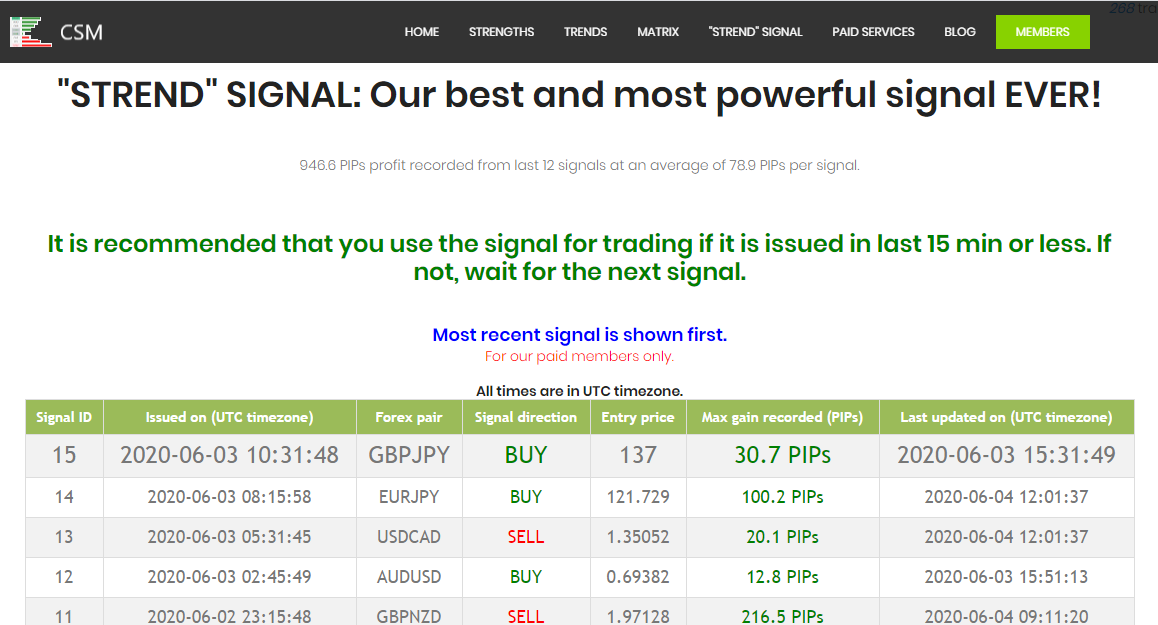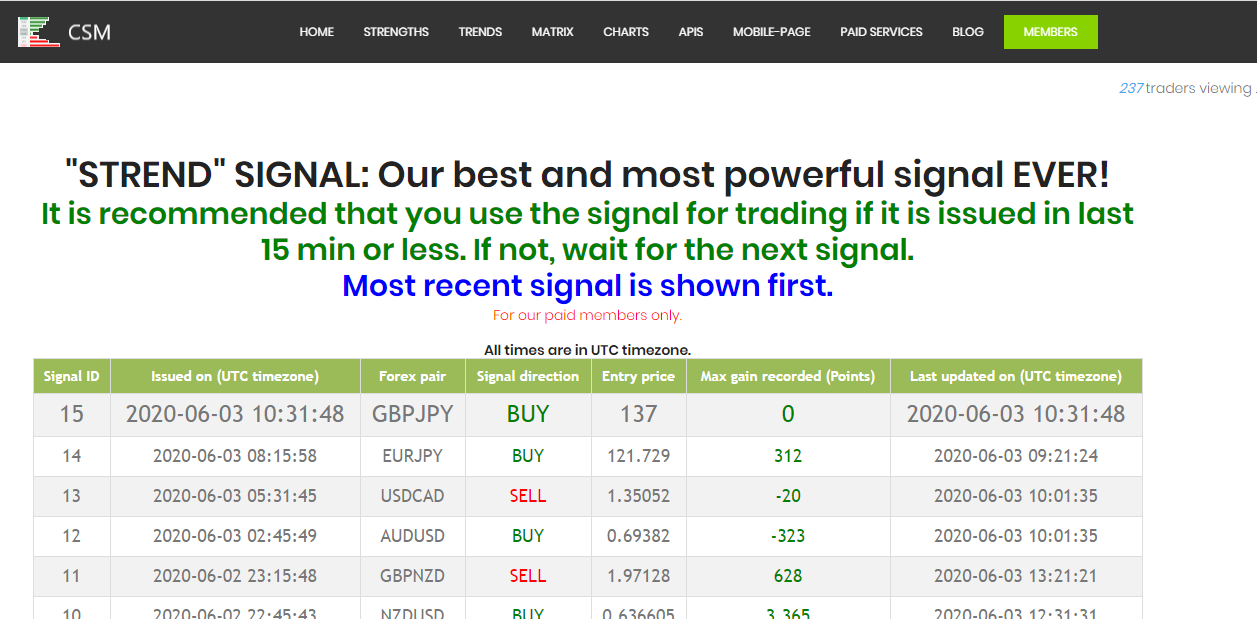 01
How is STREND Signal calculated?
Without giving too many details behind our proprietary method of calculating this signal, we will simply tell you this - every currency (like EUR, GBP, etc.) has a strength value associated with it (learn more about this on our Currency Strengths Meter page) and every currency pair (EURUSD, GBPUSD, etc.) has a trend score associated with it (learn more about it on our Currency Trends Meter page.). We take these two and combine them (it is a complex formula that eventually creates a weighted sum of the two) and come up with what we call as "STREND" indicator. In simple words, it is a sum of strength and trend scores.
02
Why is this more accurate and reliable?
While the strength and trend indicators are quite powerful on their own, what STREND does is that it addresses some of the inherent challenges with each. For example, trend may not consider the real stength momentum of the currencies involved, whereas strength may not consider the directional trend in the pair. STREND takes care of both. Hence, we feel it is more accurate and reliable. However, we strongly urge that you do your own research and testing before deploying this on real account.
03
How will the signal be delivered to you?
There are three options - refer to the explanation given above. The signals are delivered as long as you maintain positive balance for the option you prefer. Once the quota runs out, we will stop sending signals until more quota is added. Simple, isn't it? More about this in the members area.
* - Numbers indicate our price readings taken at approximately 15 minute intervals for the currency pairs identified by our signal. It assumes that the trades are opened at the price indicated at the time the signal is issued. It is important to note that these are not actual trading results. The actual trading results may defer as they depend on various factors such as when exactly the trade was opened, the spread at the time, when was the trade closed etc. Numbers are shown as a reference of "possible" profits the users can make and not an indication or guarantee of actual profits. In forex trading, losses are also possible.
* - Signals per day is an average number. It may happen that there are more than 1 signal in a particular day and none for some of the days. System has no set number of signals that it sends out every day. System sends out signals as and when the right market conditions are detected.
Risk warning: Before deciding to participate in the Forex market, you should carefully consider your investment objectives, level of experience and risk appetite. Most importantly, do not invest money you cannot afford to lose. There is considerable exposure to risk in any off-exchange foreign exchange transaction, including, but not limited to, leverage, creditworthiness, limited regulatory protection and market volatility that may substantially affect the price, or liquidity of a currency or currency pair. More over, the leveraged nature of forex trading means that any market movement will have an equally proportional effect on your deposited funds. This may work against you as well as for you. The possibility exists that you could sustain a total loss of initial margin funds and be required to deposit additional funds to maintain your position. If you fail to meet any margin requirement, your position may be liquidated and you will be responsible for any resulting losses.